Online Soilless Hydroponic Training in India

Weekend Hydroponics
Workshop
Online Soilless Hydroponic farming training in India : Learn on our operational hydroponics farms and get trained on Crop selection, Maintenance, Scope and so much more. We provides the best hydroponic farming training in India.
Date : 5th Dec, 2021 (Sunday)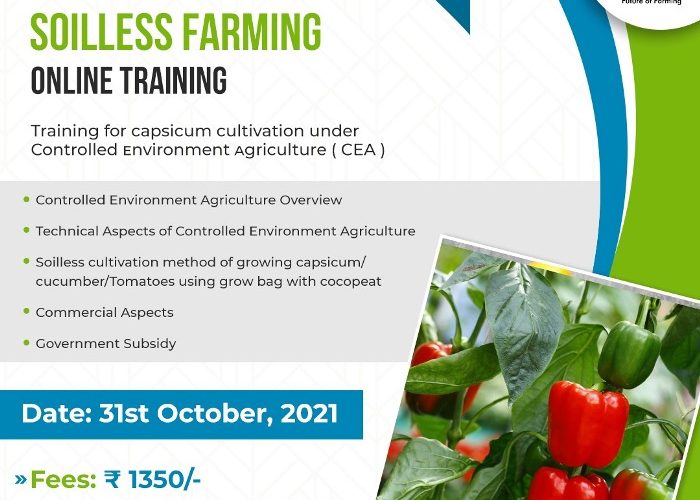 Training Overview ( Soilless Hydroponic Training in India)

Online Soilless Hydroponic Training in India (Features / Scope)
Five Hydroponics Modules and Q&A session will be included :
Module 1 – Controlled Environment Agriculture Overview
What is Controlled Environment Agriculture ?
History
Indian Market Analysis
Current scenario of Agriculture
Objective of Controlled environment Agriculture
Future of Controlled Environment Agriculture
Advantages of Controlled environment agriculture over traditional farming.
Opportunity
Module 2 – Technical Aspects of Controlled Environment Agriculture
Guide to Controlled Environment Agriculture
Introduction to protected cultivation project development
Types of Protected cultivation practices
Working principle
Specification : Site selection , design and covering material, climate control and energy use, choice of crop species
Water requirement and Irrigation Management
Nutrition Management in Soilless Culture
Integrated Pest Management
SWOT Analysis on different polyhouse structure
Module 3 – Soilless cultivation method of growing capsicum/cucumber/Tomatoes using growbag with cocopeat
Introduction to Soilless cultivation using growbags with cocopeat
Types of cocopeat and its benefits
About Capsicum
Capsicum cultivation requirements: types of cocopeat, suitable climatic condition, nutrition required etc.
Crop cycle (germination to harvesting)
Temperature maintenance and irrigation management
Venturi and Fertigation Unit
Pest and disease control
Yield difference in CEA and traditional farming
Tips for better and high quality yield of capsicum/cucumber/tomatoes cultivation
Scope and importance of capsicum cultivation
Module 4 – Commercial Aspects
Demand and supply of capsicum in India and globally.
Cost and profit analysis of protected cultivation of Capsicum/cucumber/tomatoes.
Loans and subsidy for soilless cultivation using grow bag with cocopeat in NVPH.
Process of Participation :
Registration Charges (Non Refundable)
Zoom Meeting joining details will share after Registration Completed.
Date Of Training: 05-Dec-2021
Training Time: In Morning – 10:00 AM To 2:00 PM
Online Hydroponics Training Program – Rs 1350
Online Training details will share after competition of Payment and Registration.
More details you can contact Call/WhatsApp us – 7575809577 / 7575809576 / 7575809578
Note : Training Language
English
Our Trainers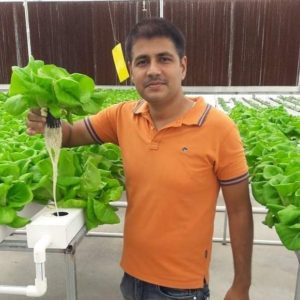 Vivek Shukla
Co-Founder, Rise Hydroponics
B. Pharma and MBA (International Marketing)
With 10+ Years of Industry Experience, Mr. Vivek Shukla has fully devoted himself to the promotion of sustainable farming. His efforts, hard work and assistance, have helped many people across India to start hydroponics farming.
Along With managing various hydroponics farms, successfully operating across so many Indian States, he also hosts hydroponic farming training in India for ambitious agripreneurs of India.
More than 20,000+ people have been trained by him at close to 100+ Hydroponics Training Workshops, conducted by him and the Rise Hydroponics Team.
FAQs

General Questions
New around here ? Start With the Basics
Is this a live online workshop or a pre-recorded workshop?
We give you the flexibility to choose from both options.
(A) A Fully Live Online Workshop conducted by Rise Hydroponics for training and guiding people on getting started with hydroponics.
(B) Pre Recorded Training Session for those who are working and want to access the learning material whenever they feel comfortable. For accessing these pre recorded sessions, you have to register in advance with us.
Will I get a certificate?
Absolutely. And not just any certificate but a blockchain verified tamper-proof certificate which means this is not another PDF file and has a lot more credibility and value.
I made the payment but haven't received the Zoom link.
Is this workshop meant for beginners?
This Workshop is made to help you with knowledge of hydroponics from basic to advanced level. And you have this option of choosing from the module that suits your learning needs.
Certifications