Hydroponic Farming Training in India

Pre - Recorded Online Hydroponics Training
Hydroponic farming training in India : Learn on our operational hydroponics farms and get trained on Crop selection, Maintenance, Scope and so much more.We provides the best hydroponic farming training in India.
Training Overview (Hydroponic Farming Training in India)

Hydroponic farming training in India (Features / Scope)
Three Hydroponics Modules and Q&A session will be included :
Module 1 – Hydroponics Technology Overview
Module 2 – Technical Aspects of Hydroponics Farming Training in India
Commercial Hydroponics Systems & Home-Grown Hydroponics systems, Kitchen Garden setup, Terrace Hydroponics Setups
Indoor and Outdoor Hydroponics
Polyhouse, Green House Structure Development
Irrigation System
Crop Selection & Yield Cycles
Types of Crops which can be Grown using Hydroponics
Nutrition System – Nutrition Information Macro and Micro – Role of EC and PH.
Different factors affecting the Hydroponics Crop and how to overcome them.
Usage of Various Hydroponics Equipments
Automation
Operational Aspects of Hydroponics systems
Module 3 – Commercial Aspects of Hydroponics Farming Training in India
Why Do you want to Set up Hydroponics System?
Hobby, Home Consumption, Commercial Project Development?
How much Does Hydroponics systems Cost?
Home grown Hydroponics Systems
Commercial Hydroponics systems
Cattle Fodder Systems
Cost Analysis – ROI analysis
Market Demand-Supply Analysis
Feasibility Analysis
Profitability Analysis
What are the Financial/Economical Challenges in Hydroponics?
How to Raise Funds?
How to Find Right Market
Process of Participation :
Registration Charges (Non-Refundable)
Zoom Meeting joining details will share after Registration is Completed.
Online Hydroponics Training Program – Rs 1350/-
Online Training details will share after the Completion of Payment and Registration.
For more details you can contact Call/WhatsApp us – 7575809577 / 7575809576 / 7575809578
Note: Training Language
English
Our Trainers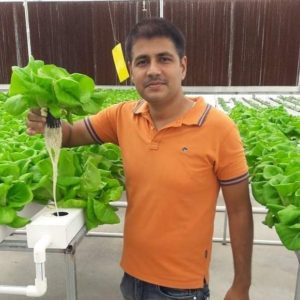 Vivek Shukla
Co-Founder, Rise Hydroponics
B. Pharma and MBA (International Marketing)
With 10+ Years of Industry Experience, Mr. Vivek Shukla has fully devoted himself to the promotion of sustainable farming. His efforts, hard work and assistance, have helped many people across India to start hydroponics farming.
Along With managing various hydroponics farms, successfully operating across so many Indian States, he also hosts hydroponic farming training in India for ambitious agripreneurs of India.
More than 20,000+ people have been trained by him at close to 100+ Hydroponics Training Workshops, conducted by him and the Rise Hydroponics Team.
FAQs

General Questions
New around here ? Start With the Basics
Is this a live online workshop or a pre-recorded workshop?
Pre-Recorded Training Session
What if I miss it? Will I get access to the recording?
Yes! The entire workshop will be recorded and you will have lifetime access to it.
I made the payment but haven't received the Zoom link.
Is this workshop meant for beginners?
This Workshop is made to help you with knowledge of hydroponics from basic to advanced level. And you have this option of choosing from the module that suits your learning needs.