Project Name: SATVIK GREENS
Place: Mumbai, Maharashtra
Area: 600 Sq. Ft. Indoor Farm
Project Details: Rise Hydroponics served Satvik Greens with a wide variety of Hydroponics Services:
Fan & Pad Polyhouse Structure Setup
Installed Hydroponics Plant Setups :
*Vertical Indoor NFT System: 5,000 Plants
Grow Lights Setup & Installation
Nutrient Management
Agronomy Support
Crop Management Solutions
Installed Auto Doser Devices
Site Feasibility & Assessment
Complete Project Design
CLIENT'S TESTIMONIALS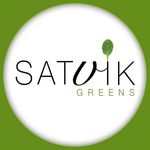 Our organization thanks team Rise Hydroponics for utilising this space in the best way. Even their founders came to personally review each and every aspect of our Indoor NFT System. I am even impressed by how they procured best quality materials at the most competitive rates. Thumbs up to their work. May you go higher and higher with the same passion. All the best.
Parth Sabra
Satvik Greens