Project Name: TATVA GREENS
Place: Ahmedabad, Gujarat
Area: 560 SQM. Rooftop Farm
Project Details: We served Tatva Greens with these Services:
Fan & Pad Polyhouse Structure Setup
Installed Hydroponics Plant Setups :
*Flatbed NFT System: 6,000 Plants
Installed Auto Doser Devices
Installed Task Automation Devices
Setup of IoT Sensors
Site Feasibility & Assessment
Crop Management Solutions
Agronomy Support
Nutrient Management
Complete Project Design
CLIENT'S TESTIMONIALS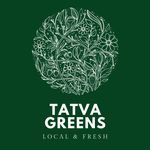 Our rooftop looks so beautiful now. I was right there when Rise Hydroponics took over this responsibility of installing Flatbed NFT systems for raising over 6,000 plants. It's their tremendous support that helped Tatva Greens realize the potential of a fan and pad-based polyhouse setup. Our firm is highly satisfied with their work. More power to Rise Hydroponics and their team.